About Tom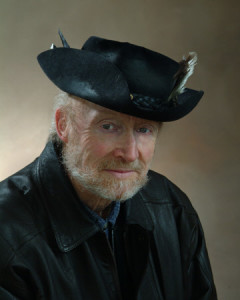 For 50 years, T.W. Paterson has been writing about British Columbia history. To date: 26 books and thousands of magazine and newspaper articles. That's millions of words!
He's best known for his books on British Columbia ghost towns. As well, he has written extensively on shipwrecks, crimes, mining and our more colourful characters.
It should come as no surprise that 'T.W.' originally favoured the frontier drama of British Columbia's 'Wild West' (yes, we had one), having grown up in Victoria on American magazines, American movies and American TV.
Why such a strong American influence?
Because, in those days, students didn't encounter Canadian or provincial history until Grade 8. It was as if 'our' history didn't exist!
Ironically, it was an American western history magazine that published his first magazine article about a lost (Canadian) gold mine, while he was in his teens. It was the first of 100s of articles that he has written for audiences below the 49th parallel. As it turned out, many Americans are as interested in our history as we Canadians are in theirs, especially when it's of the colourful variety.
But it's not just the events–the shootings, the hangings or the love triangles–that make drama. It's about the people who are involved, the men and women who are often swept up by uncontrollable passions and/or circumstances.
Which is not to say that history has to be 'exciting' to be, well, exciting.
Some of our best history is the plain unvarnished truth about the so-called ordinary men and women who built this country, Canada, from scratch. Some came, some conquered, some were conquered. And what great stories they tell.
T.W.'s twice-weekly historical newspaper columns are among the most popular features of the Cowichan Valley Citizen, Duncan, and have developed a large and loyal following over the past 17 years.
He's currently working on several 'real' and eBooks for release this year.