Molly Justice – Murder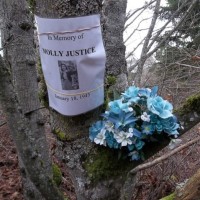 'In ever loving memory of Molly Justice, January 18, 1943.'
Friday, January 18, 2013 marked the 70th anniversary of Molly's murder beside a Saanich railway track.
To mark the occasion my friend Jennifer and I placed a wreath and a card on a tree within feet of what I believe to be the murder scene, just north of where Darwin Road crosses the old CNR line (today's popular Galloping Goose Trail).
I grew up with Molly Justice's slaying although it happened before I was born. But she was part of my family lore. How many times had I heard mention of her by my parents, aunts and uncles, how many times had I walked, wide-eyed, past the very spot where she bled to death, how many times had I begged for the gory details?
But I'd had to wait until I was thought to be old enough for the answers, as unsatisfying as they proved to be. There were suspicions and rumours but much about her killing beside a Saanich railway track remains unexplained these 70 years later.
My grandmother remembered Molly Justice every January
For my grandmother Ellen Green the heartache only ended with her own death in 1989. Even after Molly's own parents were gone, Grannie kept the faith. Every January she placed a small In Memoriam notice in the Victoria Colonist:
"JUSTICE–In ever loving memory of Molly who was taken from us…years ago today, 18th January. Gone but will never be forgotten. Always remembered by Mrs. Tom Green, RR1, Parksville, Vancouver Island."
"I said I would put it in as long as I live and I will," she told Colonist reporter Ted Shackleford in 1964. "She lived opposite us when we were in Victoria. She was my youngest daughter's best friend. A finer girl you couldn't meet anywhere…"
Snow was threatening when 15-year-old Molly (Anita Margaret) Justice stepped from the bus after getting off work, that January evening. It was wartime and stringent 'dim-out' regulations forbade any friendly lights to guide her. Although she didn't like to walk alone at night along the CNR grade that passed right by her home, this route was considerably shorter and she invariably used it. Described as being "mature for her age," her striding figure was observed by the driver as she disappeared into the darkness.
Saanich Police found Molly's bloodstained body
When next seen, by Saanich Police officers after a couple, returning from skating on Swan Lake, reported finding blood-stained parcels, Molly was dead. She lay face down in the snow beside the railway tracks. Her body was yet warm despite her coat and skirt having been pulled up over her head. She'd been struck twice on the head by a heavy object and stabbed almost 20 times with a small knife.
One thumb had been almost severed by the downward slash of the blade but the cause of death was from loss of blood from her throat wounds. Scuff-marks in the snow showed that she'd fought for her life. Her purse, known to contain $4, and her ring were missing, she hadn't been sexually assaulted.
Saanich, Victoria and Provincial Police, assisted by the army Provost Corps, were frustrated by the snow which they thought covered up other clues. They confirmed that Molly, head seamstress at the General Warehouse Ltd. despite her youth, had caught the 5:50 p.m. bus as usual and got off at Carey Road, walked along University Street to Douglas, then to Vernon and down the embankment at the bridge to the CNR grade. She was killed at the next crossing, where the tracks crossed Darwin Road.
The case received international attention when Victoria Mayor Andrew McGavin publicly protested to Premier John Hart of other incidents of girls being molested as a direct result of the dim-out. No lights after dark had been initiated at the request of American military authorities although neither Port Angeles nor Honolulu were so restricted.
A check of clothing and dry-cleaning shops turned up some bloodied garments but these proved to be unconnected to the case. Unwilling to wait longer, police attempted to melt the snow at the death scene, now a foot deep, with hot water, but quickly stopped lest they destroy invaluable evidence.
A doubling of the $250 reward
for information offered by Saanich Municipality drew no response and the inquest, personally attended by Attorney-General R.L. Maitland, drew 50 spectators. It took Dr. J.H. Moore several minutes to list the wounds suffered by Molly in her struggle with her killer.
On February 4th, Molly's purse and a cigarette lighter bearing the initials R.L. were found under an inverted bucket beside Swan Lake. No fingerprints were lifted from either article. Then police, who'd widened their search over 60 acres, also found a pair of men's gloves, the right one bloodstained, but not sufficiently to yield a blood type. Of soft Capeskin, tan in colour, with full lining and close-fitting elastic wrists encircled by two coloured bands, 96 pairs had been sold in the area between October and December 1942.
It took 1700 interviews to clear the first 30 pairs of gloves and, by early March, 81 had been accounted for.
Youthful suspect arrested
On May 16th, a youth was arrested and charged with threatening a girl near Swan Lake with "the same as Molly Justice got" if she continued to resist his advances. Acting upon information provided by this suspect whose name was not released, 50-year-old logger William Mitchell was charged with the murder of Molly Justice.
But then a mysterious veil of silence descended over the case. There was speculation that a prominent British Columbia family was involved and that 'politics' were covering up for them. Other rumours hinted at an unnatural relationship between two principals in the case. Newspapers stopped covering the story. Mitchell was acquitted for lack of evidence.
Police were convinced that the killer knew Molly
They were sure that he was familiar with her habits and had targeted her. She'd been staying with friends and was returning home after work that evening. He'd known that she'd come along the railway tracks and had waited for her.
In 1964, as Colonist copyboy bucking for cub reporter, and inspired by a lifetime of family gossip, I set out to examine the 21-year-old case. Saanich Police Sgt. Eric Elwell, present when they found the body, wouldn't discuss it with me after first agreeing to. Another investigating officer "couldn't remember". Saanich PoliceChief Bert Pearson–whose office in the new Saanich Municipal Hall overlooked the murder scene–brushed me off. The files, because the case remained unsolved, were closed to the public.
What had been lonely bush in 1943 had mostly given way to a residential area. The exact spot where Molly bled to death from 20 stab wounds was a front yard. Molly's parents were gone and she began to retreat into the mists of history.
But not for my maternal grandmother Ellen Green, who never forgot the attractive, likeable 15-year-old girl whose brutal death had, it seemed, been allowed to go unsolved and unresolved. When a brief story appeared in the Colonist on the 20th anniversary of Molly's murder, it drew a letter from a woman resident of San Francisco who'd been in Victoria at the time. In part it reads: "…I have never forgotten her, and never will; maybe it is because her name was 'Justice.' So, as always, I pray for the soul of Molly and hope one day she will meet with 'Justice' concerning her death…."
'Justice' for Molly Justice was late in coming
In a way, Molly did finally receive the justice originally denied her. Not the nice and neat, tied-with-a-ribbon kind we like in our fiction, but a justice of sorts. Late in 1967, police charged a 40-year-old Port Alberni man, Frank Hulbert, aka Frank Pepler, with having given false testimony as a youth at William Mitchell's trial. Two years later, Hulbert was convicted of perjury and sentenced to five years' imprisonment.
During a second trial in January 1969, his first conviction having been overturned on grounds of an error in direction by the judge, former City of Victoria policemanLewis T. Kamann testified that Hulbert had admitted to him, in 1947 or '48, that he'd killed Molly–and defied Kamann to prove it.
In March 1996, the month following Francis James Pepler's death, aged 68, Saanich Insp. Al Hickman reopened the 53-year-old case at the request of Molly's sister-in-law, Marjorie Justice. He identified the killer as Frank Pepler, who was 15 at the time of the murder and stepson to Eric Pepler, British Columbia attorney-general for 20 years who, he charged, had intervened personally in the murder case and that of a sexual assault on an 11-year-old girl, four months later. Hulbert had been given an indefinite sentence 'for an unnamed charge' under the Juvenile Delinquent Act and shipped off to the Industrial School for Boys on the Mainland. He also served time at Oakalla Penitentiary.
Saanich police had repeatedly tried to lay a murder charge against Hulbert/Pepler through the '60s but Crown prosecutors thought too much time had passed and investigators had to settle for the upheld perjury conviction and a four and a-half year sentence.
Suspected murderer died 'peacefully'
The alleged killer ended his life as a recluse, living in a converted bus. He died 'peacefully,' according to his obituary. A damn sight more peacefully than did 15-year-old Molly Justice, that snowy evening beside the railway tracks in January 1943. If he suffered any remorse over those 53 years it can't have been any greater than the heartache suffered by my grandmother who went to her own grave without seeing the case resolved.
She was loyal right up until that last January 18th "JUSTICE–In loving memory of Molly…"